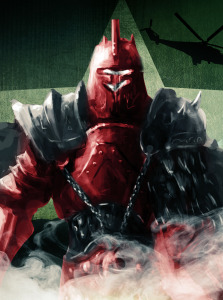 A Child of War despising strife,
A bitter foe of poisoned knife,
Is bound to bitter stink of death
That plunders him of joyous life.
An Angel spreads her hallowed wings
To seek the hellish nightmare thing
That holds him fast to nightmare task,
That binds his soul to battle's king.
Rise up, she says, and take command
To lead us all with steady hand
And liberate our frozen hearts
From endless toil at war's demand.
Yet ever do the mighty strive
To seek the heights lest hellward dive
For power's sake they bend the world
Insuring they alone survive.
To be continued…